Ooff, this day was a bit exhaustive… We went up to see the Aletschgletscher , the largest in the Alps. A river of one single piece of ice of 23 kilometers long, 2 km wide and the beginning of the Rhône river (now I have been at the begin and the end).
The small town Mörel facilitates in three (!) cable cars up to the mountains, one with two large carriages, and two with smaller 4-person cabines. You first go to the town Riederalp on 1900 m, with a station half way. This little town is mainly a ski resort, with cafés, discos, apres-skis, etcetera.
Then a one quarter walk to the next one which brings you further to 2333 m. From there, you have a beautiful view on the gletscher, which is about a kilometer beneath you.
On first impression, it may not appear that great, but if you realise that you are really very far away from the ice, the enourmous measures of how big it really is become clear. Actually reaching the ice is impossible if you're not arriving there by 9 in the morning, so we didn't have the oppurtunity to walk on the gletscher.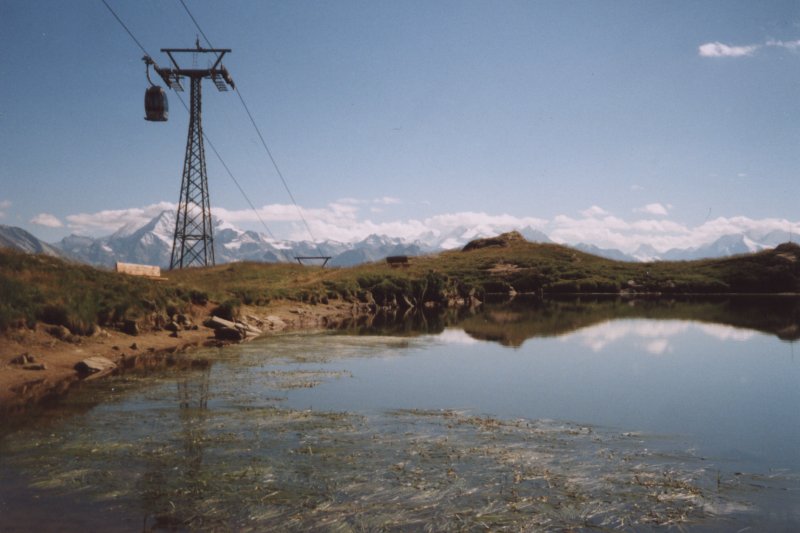 So we took a walk on the high road, forgetting time and place, being on another Lord of the Rings set, coming along a beautiful little mountain lake. And then, when we wanted to go back up to the cabin car… We noticed that they had stopped exactly at 5… Great, we had missed the last descent. So, that meant a walk down to Riederalp. 40 minutes of steep downhill walking, that is not good for your knees.
Finally back in Riederalp, we were lucky to find out that the descent down to Mörel is in service until 21:45, so we were in time. Otherwise we would have another even longer walk down ahead of us.