Kaizers Orchestra In Effenaar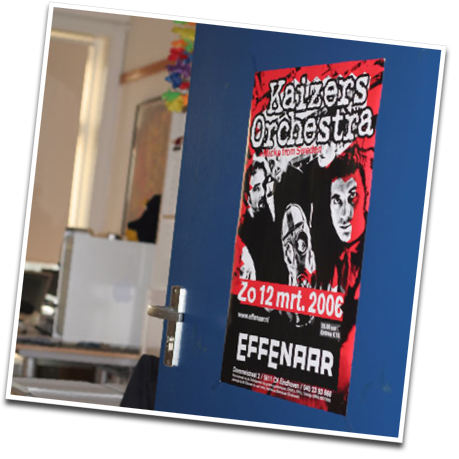 Great concert, little short maybe, but well… Making it longer won't make it long enough :)
The setlist was something like this (taken from a gig in Danmark, changed where I knew the differences):
KGB
Delikatessen
Knekker deg til sist
Hevnervals
Container
Señor Flamingos Adieu
Blitzregn Baby
Bøn Fra Helvete
Mann Mot Mann
Kontroll På Kontinentet
Christiania (yes, the self-governed community in Denmark, but also the former name of Oslo)
På Ditt Skift
Die Polizei (request from audience)
Di Grind
Dieter Meyers Institution
Evig Pint
Ompa til Du dør
Maestro
Reprise:
Mr. Kaizer…
Bak et Halleluja
Resistansen
Thanks to Lotte, Sjoerd, and Bram for joining me. Ah, and Lowlands is a no go, since I'll be in Iceland by then after all (I thought Lowlands was in July).
And I found some English translations to the lyrics!
Webmentions
Heb je een reactie op dit artikel geschreven? Stuur me een webmention! Het kan een paar dagen duren voordat je reactie hier verschijnt.