Fellowship of the Ring: Complete Recordings
Extreme bargain alert! I got this 3CD plus a DVD with the complete recordings of The Fellowship of the Ring at a ridiculous price of € 5,95 at Makro… Something of a 90% discount off the Amazon-prize. Someone really must have messed things up since I've seen it at said Makro for something around € 40,- not too long ago.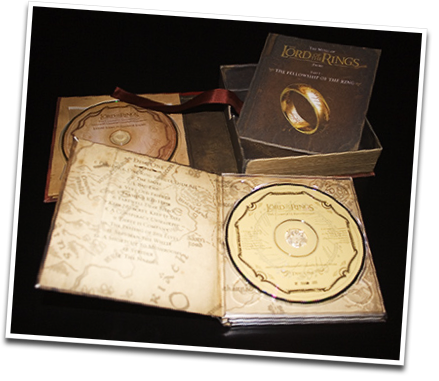 Contents:
A booklet with information on the various themes in the music, certainly an interesting read.
3CDs with the complete musical sound track of the first of the Lord of the Rings movies.
1DVD which contains the same music, only now in four formats: standard Dolby Digital Stereo and Surround and in 48kHz 24bit Advanced Resolution Surround and Stereo Sound. Anyone who can play DVD-Audio?
It seems that software to play the DVD-Audio portion (it's what goes in the AUDIO_TS directory on a DVD) simply doesn't exist. One has to have a hardware player for it, but now the same hardware players are dropping support for it in favour of HD content.
I really enjoy this "Extended Edition" of the soundtrack, it's fun to picture the complete film along with the music :)
Webmentions
Heb je een reactie op dit artikel geschreven? Stuur me een webmention! Het kan een paar dagen duren voordat je reactie hier verschijnt.