Der Schrecksenmeister is here!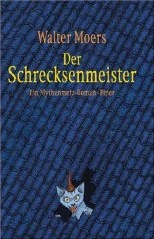 Der Schrecksenmeister – Ein kulinarisches Märchen aus Zamonien von Gofid Letterkerl. Neu erzählt von Hildegunst von Mythenmetz (yes, it is a culinary fairy tale by a great poet, retold by a lizard-like novelist, translated out of the Zamonian language into German) is out! The newest book from Walter Moers has finally arrived!
It didn't get as much attention as Harry Potter number 7 and the lines in front of the book stores weren't as big, but I'm sure there are many fans of Zamonian literature (me included) who are happy that the wait has come to an end. Or almost, since Amazon.de isn't too fast sending books to the Netherlands.
Webmentions
Heb je een reactie op dit artikel geschreven? Stuur me een webmention! Het kan een paar dagen duren voordat je reactie hier verschijnt.